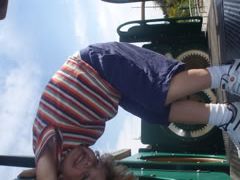 James celebrated the end of Daylight Savings Time the way he has the past three years -- he got up 2 1/2 hours earlier than usual. I was up at 4:45AM. That kid is lucky he is cute! He inhaled a lot of food for breakfast too. He is over 40" now, and I guess we are in for another growth spurt. Yikes!
His new favourite thing is watching the Disney Sing-Along video shot at Disneyland. I like this so much better than Caillou! We watched it 3 times today. I also took him out in the back yard once the sun rose. He explored a lot and had lots to offer talking-wise: "leaf!" "Oooh! Whassat?" "kee-tee" and "I want DADDY!!!" That brought a smile to someone's face!
He loves playing with Play Dough. He and his sister shared a big activity barrel of it for almost 45 minutes this afternoon. He rolled out the dough, asking first for the roller ("Roh-er?" Pease?") and then cutting out as many purple stars as possible, before mushing it all together and starting again. Both kids also spent some time playing with their musical toys with their dad. James flipped through many books. He loves one from Switzerland, from some reason. Bern is his muse, I guess? And it has been pouring cats and dogs outside, so we love the fact that he still uses his trampoline. Go get out that energy, James! And please, have pity on your poor mother and sleep until at least 6:30 tomorrow morning!