Just before Winter Break, James brought home his writing log, which he calls his Red Journal. Considering he had trouble getting 4 letters on 1 page of paper last year, this is a Magic Journal for me!
Baseline, from September:
We have our puzzling days:
I see his teacher and aide's names there ...
ummmmmm ...
"At school, the lights were not on. I feel bored. I went to speech with Jack. We watch -- "
er, um, cheeus cager goose? This will keep me awake at night.
The ones that make my heart ache a bit :
Although I have to take the "worried" with a grain of salt, because:
For more great masterpieces or to share some of your own,
visit
5 Minutes for Special Needs
for more
Magic Marker Monday
.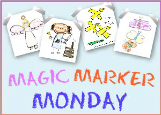 (and yes, I know it's Friday -- it's been a week)