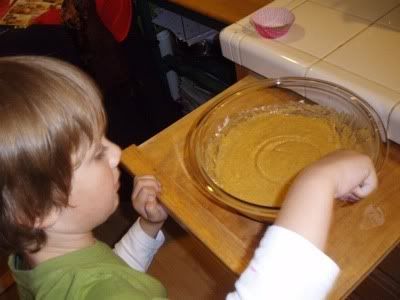 James is cooking, in more ways than one. Language and social skills are really coming along. We have signed him up for extra gym at his second school and it is helping him become more coordinated. His fine motor skills need some attention too -- holding a pencil or spoon can still be difficult for him.
Enter cooking! Big sister loves to do it, ergo James wants to try it too. That's how I found out that stirring batter is a good way to help him practice a better grip and test his muscle tone while having fun and feeling like he is being like Big Sister. This morning it was pumpkin muffins. He even likes eating them now.
Besides, I like to be pampered. Cook, children, cook!