Portrait of a nearly 4-year-old boy: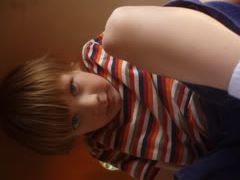 Do you want some more water? Time to go to bed! Come here, please ... these are all met with the same answer: "No!"
There is no "yes," there is only "okay." Maybe. Sometimes.
James is so excited to have his big boy bed that he has decided to really be a big boy. He has not been taking naps these past two days, and he found the big boy underpants that we put away a few weeks ago and brought them out to me, so we are starting potty training afresh.
He will sit on the potty at home, but only the big one that his sister uses. He does not like the underpants with black -- he wants the ones with blue or red on them.
He does not want his mommy to put him to bed -- only his big sister can do that now. I'd cry except ... I am really tired by then, so I slink off to the next room and go "ahhhhhhh!" and wait for my chance to give him a good night kiss, tell him how proud I am of my big boy and that I love him.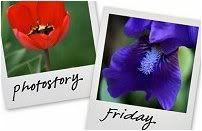 Hosted by Cecily and MamaGeek