We are starting to swing big time into the winter holidays. This year is so much fun because James is present and full of fun and wonder. It hasn't been like this before.
Last year he was just starting to make developmental and speech progress. He loved to toss wrapping paper and tissue up in the air and *laugh*! The year before ... well, I cried. It was like James was on Mars and the holidays did not exist.
This year we went to partake in holiday mayhem at our gym. Two floors devoted to ornament making, handmade signs & reindeer goggles. The rock climbing wall was in full swing. The kids were jumping in the games and exercise rooms. James' favourite thing? Making spinning art. Some genius had taken an old record turntable and poked paper plates on it. The plates would spin around and felt tip markers could be placed on the plate and make spinning art. Very cool for James, lover of all things Spin!
Bonus, Santa came to visit!!! The kids were good waiting in line, munching on popcorn and downing apple juice outside, then running the length of the room (and checking themselves out in the floor-to-ceiling mirrors on one wall) once inside the room to meet Santa.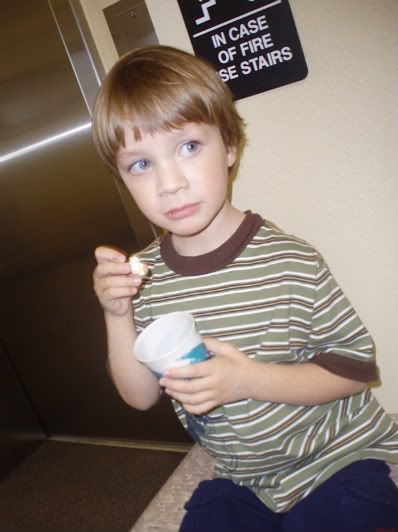 Amazingly, the kids were not shy or weepy when it came their turn to meet the Big Guy. In fact, we gave him a good laugh: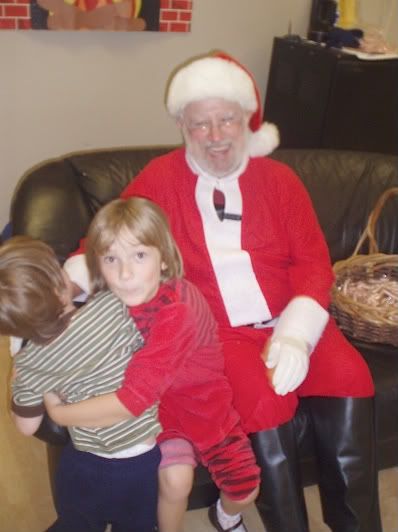 I like to think trying to talk to James about Santa in a
social story
format helped him prep for their meeting. Social Stories are on my brain right now. I attended an awesome presentation on them just yesterday.
James did not seem too phased by all the noise and confusion. He enjoyed his special peppermint stick from Santa. Several of the employees knew him well from childcare and called out "Hey, James! Good to see you!" What a nice start to the holidays!