This is our first year that both kids really got excited bout and participated in Halloween -- yay!! James was a puppy (gotta love costumes that last for 2 or more years!) and his sister was a fairy queen.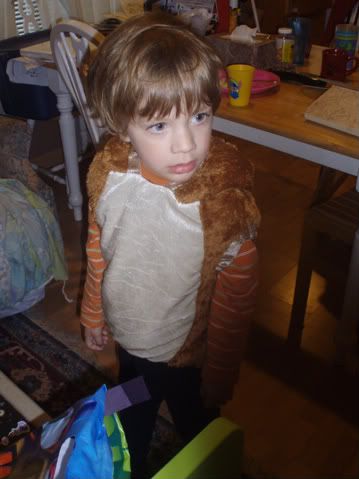 James hung in there with us for about 20 houses. He loved walking around at night and being out with Big Sister. He said "Trick-a-Tee" at quite a few houses and was very good about saying thank you. The only tough times were at the homes with dogs. Especially the one with a friendly collie. "I want UP!!" Yessir! Irony, how I love you so.
Anything with flashing lights were instant fascination for him. I thought we'd never get him away from our neighbour with a strobe light on his front porch. We did get a splashing of rain after a bit, and headed home. James looked very pleased with himself. I am very pleased -- I know there is no way he's going to eat more than 5 of those candy pieces in his treat bag. Score!