We just got back from a fantastic trip to the speech & language therapist. First -- we got there ON TIME!!!! We met James' first case worker on the stairs. This is a wonderful woman who walked my husband and I through all our assessments and evaluations and signed us up, fast and furious, for all kinds of services to help our little guy. With a minimal of prompting, he said "Hi, Mary." She was so delighted! Last time she'd visited, he was just starting to say sounds and words. "
Call
me!" she said, as she dashed out the door to her next appt. and we marched upstairs to ours. The great thing is, she really means this.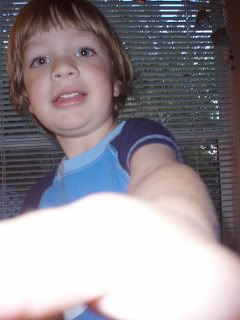 I brought my daughter in to the therapist's office because we had to come up with a new appt. date & time. Summertime does that, I've noticed. James was talking so much more while he played, and handled the toys with confidence. After we'd hammered out a new interim schedule, the therapist helped me figure out how to get him to practice saying three- and four-word phrases. Talk about your heady mommy excitement! I remember crying this time last year, because at times I thought he would *never* talk!
It comes down to this: James needs to be pushed. Oh yeah, big guy! We will push it, real good! Meanwhile, I will treasure today -- the day you said "blue fish clock," "I want sucker, please," and "wha' is 'it?" Yay, James!